Dr. Maharshi Pandya (Dental Surgeon)
BDS
4 Years Experience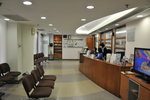 About Dr. Maharshi Pandya
Dr.Maharshi has completed his undergraduate(BDS) from KARNAVATI SCHOOL OF DENTISTRY IN 2017.
Being a general dentist his area of focus is
aesthetic dentistry and utmost preventive treatment to render perfect oral hygiene.His desires and passion helps him to deliver quality treatment to each and every patients,
as he assures that every patient will get a better smile to shine.
Clinic Address & Location
Educational Qualifications
Karnavati School Of Dentistry
Experience
Associate Dentist at Prosmile Dental Clinic And Implant Center
Associate Dentist at Smile Zone Dental Clinic And Implant Center
October 2017 - October 2018
Review & Ratings
Tirthank Rajeshkumar Vyas
Dr. Maharshi Pandha is such a very professional and polite in nature. I got dental treatment under his practice, and I really appreciate of his care and expertise during the treatment.. Thank you so much!!