Dr. Hasina Kapadia (Gynaecologist)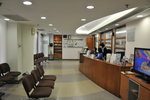 About Dr. Hasina Kapadia
Gynaecologist
Available Timing :

Dr. Didar Kapadia :
Evening : 6:00 pm to 7:00pm

Dr. Hasina Kapadia :
Morning : 10:00 am to 1:30 pm

Dr. Gazala Desai :
Morning : 10:00 am to 1:30 pm
After Noon : 4:00 pm to 5:00 pm
Evening : 5:00 to 6:00 pm

Kindly Book your Appointment as per Doctor's Availability.

Clinic Address & Location
1st Floor,Royal Nawab Avenue,Near Moti Bakery & Punjab Honda,Jawaharlal Nehru Road, Juhapura, Ahmedabad
Available Cashless Insurance
Bajaj Allianz General Insurance Co Ltd
DHFL Pramerica Life Insurance Co. Ltd.
Shriram General Insurance Co. Ltd.
My News Feed
Need female medical officers . BAMS, BHMS . Good pay for good people.
Today at Mahin Hospital
Free check up camp for female pts was organised
75 patients were examined
Free lab tests were done
Free medicines were distributed to needy pts
Two female newborns were given gifts by Mahin hospital and they were blessed by Prof Dr Mehrunissa desai ( AMWA ) as part of " Beti vadhavo " campaign
Free Camp at AMWA Juhapura, Ahmedabad
Adolescence Health Programme & Teenage Girls Counselling at R J TIBREWAL COMMERCE COLLEGE Vastrapur Ahmedabad.