Dr. Rushika Gandhi (Dermatologist)
MBBS, M.D.(skin)
9 Years Experience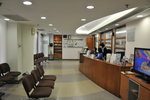 About Dr. Rushika Gandhi
Dr. Rushika Gadani, is a consultant clinical dermatologist, with special interest in Pediatric Dermatology
Training:
After her M.B.B.S. from the reputed Shri M. P. Shah Medical College and G. G. Hospital, Jamnagar, she completed her M. D. (Skin) from P. D. U. Medical College and Civil Hospital, Rajkot, which is a prominent teaching hospital catering to patients from the entire Saurashtra and Kuchchh regions of Gujarat.
Subsequently, she worked as post-MD registrar at the Dept. of Dermatology, T. N. Medical College and B.Y.L. Nair Hospital (Mumbai Central, Mumbai) which helped her broaden her horizons in the subject with special attention to complex adult and pediatric clinical cases, as well as Trichology
She was also awarded IADVL training fellowship in Pediatric Dermatology at the apex institute, All India Institute of Medical Sciences (AIIMS), New Delhi. This training deepened her knowledge of skin diseases affecting children and trained her rigorously in their better management.

Clinic Address & Location
Harvy Complex, Besides A-One School Subhash Chowk, Gurukul Rd Memnagar Ahmedabad, Gujarat 380052, Memnagar, Ahmedabad
Educational Qualifications
P.D.U. medical college and Civil hospital Rajkot
M.P. Shah Medical College, Jamnagar
Experience
Dr. Rushika has been in practice at Ahmedabad since 2011 at her own clinic, Mohana Skin Clinic at Gurukul Road, Memnagar.
Review & Ratings
A true expert for skin consultation
Specialization
Dermatologist/Cosmetologist
Memberships
Life member of:

• Indian Association of Dermatologists, Venereologists and Leprologists (IADVL)

• Indian Society for Pediatric Dermatology (ISPD)

• Cosmetic dermatology Society of India (CSI)

• Indian Medical Association (IMA)

Associate member of:

• Indian Academy of Pediatrics, Gujarat State Branch
Core Interest Areas
radiofrequency surgery
Skin biopsy
Cryotherapy using liquid nitrogen for infectious warts and other diseases