Dr. Hardik Mehta (Dental Surgeon)
Master of Dental Surgery (MDS)
18 Years Experience
About Dr. Hardik Mehta
Welcome to www.dental-planets.com, the official website of Dental Planets, Ahmedabad and at Bhuj. Dental Planets in Ahmedabad at Navrangpura and Maninagar and Bhuj, are your natural choices for top-quality dentistry in India. Both clinics employ a team of highly qualified dentists and specialists for their commitment to excellent results and quality patient care. All the dental treatments and procedures are provided under one roof with extra emphasis on patient education. This website is your online resource to learn about our practice, the services we provide, common dental conditions, treatment and more.
Dr. Hardik is a Periodontist, a specialist in gum diseases and implantology who completed his graduation from Bharati Vidyapeeth Dental College & Hospital, Pune in 2002.

With the attitude and zeal for further studies, Dr. Hardik Mehta pursued further studies in the form of Post graduate course in the subject of Periodontology and Implantology.

During this tenure of 3 years as a post graduate, he did all types of major and minor periodontal surgeries and also excelled in successful placement of different types of implants. His evidence based treatment approach were appreciated by the eminent staff members of the college following which he was awarded 1st Rank in the subject of Periodontology and Implantology in Bharati Vidyapeeth University in the year 2008.

Dr. Hardik is currently a well practicing dentist in Ahmedabad and is a Senior Dental Surgeon at Dental Planet Clinic, Naranpura. His keen interest in teaching has also made him to attach to The College of Dental Sciences and Research Centre as Reader. He is also associated with consulting services to SAL Hospital and various other dental clinics and Hospitals as a Periodontist and Implantologist throughout Gujarat.
Clinic Address & Location
Dental Planet Multispeciality Clinic
405-406.4th floor ,Sigma Balaji Complex, Besides Saumya complex, Opp. Karnavati Pagarkha bazaar, Navrang circle, Navrangpura, Ahmedabad
Educational Qualifications
Master of Dental Surgery (MDS)
Bharati Vidyapeeth Dental College & Hospital, Pune
Experience
Dr. Hardik is currently a well practicing senior dentist in Ahmedabad and is M.D.S in Periodontics and Implantology at Dental Planet, Navrangpura, with the clinical experience over 16 years His keen interest in teaching has also made him attach to The College of Dental Sciences and Research Centre as a Reader. He is also a Consultant to Zydus Hospital and Sal Hospital
Specialization
Dentist
Implantologist

Periodontist
Core Interest Areas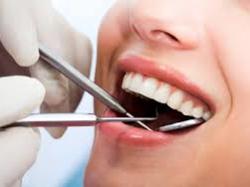 Cosmetic/Aesthetic Surgery
Implants
General Checkup