Dr. Divyang Brahmbhatt (Ophthalmologist)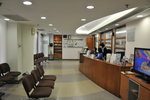 About Dr. Divyang Brahmbhatt

Sahajanand Eye Care Hospital was established in 1994. It is the dream-child of Dr. Divyang Brahmbhatt, M.S. (Ophth.), D. O. It has now become a well-known center for NO PAD, NO INJECTION, NO TABLETS Cataract surgery, multofical IOL & Lasik Surgery.

We offer the latest in Cataract surgery, including the NO PAD, NO INJECTION cataract surgery where the patient can go back to a normal life immediately after surgery and also the new generation multifocal foldable injectable intraocular lens.

We have helped many patients achieve freedom from the burden of spectacles by Lasik over the last 17 years. Sahajanand Eye Care For Cataract Surgeon In Ahmedabad Eye Laser Surgery In Ahmedabad Etc.

Dr. Divyang Brahmbhatt
Hospital group consists of a two hospital in own building including facilities of consulting, O. T. day time stay etc One in the centrally located Eye Hospital Navrangpura area in Ahmedabad and second in newly developed west Ahmedabad Bodakdev. Both hospital in their own house with bigger parking facility and hospital has consulting rooms in ground floor so no need of climing staires or using lifts.

Our Staff consists of Dr. Divyang Brahmbhatt who is the pioneer of the hospital.

Dr. Nilesh Patel is the anesthetist & is available during operative procedures. The rest of the staff consists of O. T. Assistants, Receptionist, Paramedical staff, Accountant & Medical Insurance handling staff.

The both hospitals are spacious & wall furnished with a large waiting area, Consulting Room & Operation Theater & a large air conditioner room with beds available for pre & post operative stay for a couple of hours for operative patients.

it is also possible to watch surgery live for the relatives of the patient through CCTV in the waiting area.The Hospital boasts of all the latest instruments, facilities & eye examination as well as surgery.The freedom eye laser centre is also a part of our group where Lasik procedures are performed.
Clinic Address & Location
Sahajanand Eye Care Hospital
2,Falgun Society,B/h AG School,Commerce Cross road, Navrangpura, Ahmedabad
Crystal Vision Eye Clinic
15,Preyas Bunglows,b/h Bodakdev FirestationFirestation,Judges Bunglow road, Satellite, Ahmedabad