Dr. Yuvraj Lakum (Orthopaedician)
11 Years Experience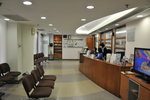 About Dr. Yuvraj Lakum
Wishbone orthopaedics (WO) is a niche super speciality orthopaedic clinic catering all Orthopaedic super speciality subsets like Spine, Joint Replacement, Complex fractures and Sports medicines.
Located in the heart of Ahmedabad (Navrangpura), in a quiet by lane near stadium cross roads opposite golden triangle, WO is accessible by all major transport routes.
The clinic is well equipped with state of the art Orthopaedic patient friendly infrastructure, digital X-ray, laboratory and pharmacy.

Clinic Address & Location
501-502, Khsitij Aria, Opp. Golden Triangle, Near Stadium Petrol Pump, Stadium Road, Navrangpura, Ahmedabad
Experience
Joint replacement Fellow laud clinic , Mumbai Joint replacement Fellow Endoklinik, Hamburg Germany Joint replacement Fellow orthoindy Hospital , Indianapolis USA Arthroscopy and sports medicine fellow PD Hinduja Mumbai