Dr. Priyank Patel (Dental Surgeon)
BDS
9 Years Experience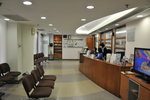 About Dr. Priyank Patel
I believe in health care that is based on a personal commitment to meet patient needs with compassion and care.

More about Dr. Priyank Patel

Dr. Priyank Patel is a Dentist practicing in new Ranip, Ahmedabad. The doctor is qualified in Certified Implantologist, BDS and has an experience of 4 years in this field. You can get the phone number of Dr. Patel Priyank on KiviHealth.com.
Clinic Address & Location
Vinayak Dental & Implant Clinic
Educational Qualifications
Experience
Present Owner Doctor at Vinayak Multispeciality Dental and Implant Clinic
Dentist at Nidhi Dental Clinic
January 2013 - January 2014
Lecturer at College of Dental Science and Research Centre
January 2012 - January 2013
Consultant Dentist at Dhanwantri Dental Clinic
Review & Ratings
It was good experience with doctor and his treatment..
Thanks Everything is excellent
Memberships
Indian Dental Association
American Academy Of Implant Dentistry (AAID)
Indian Society of Oral Implantologist
Core Interest Areas
Implant
Dental Filling
Crown and Bridge