Dr. Maulik K Vora and Archin M Vora (Dental Surgeon)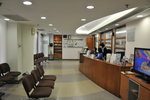 About Dr. Maulik K Vora and Archin M Vora
Dr. Maulik K Vora is a well Renowned and Leading Dentist in Ahmedabad. He holds a Bachelor's Degree (B.D.S).

Currently He practices in Dr. Maulik Vora Dental Clinic. He has Performed all kinds of general dentistry including Dental Check-ups and Cleaning, Dental Crowns and Dental Implants, etc. He is also an active member of Indian Dental Association.

DR ARCHIN M VORA (B,D,S. M.D.S) :-

DR ARCHIN M VORA graduated from K.M.Shah dental college in 2007 and completed his specialization in prosthodontics and crown and bridgework where he mastered the skills of replacing teeth with fixed or removable prosthesis.

DR. ARCHIN M. VORA is having extensive training in multitude of dental procedures from general dentistry to complicated full mouth cases with specialty in the placement and restoration of single and multiple dental implants. he had extensive exposure in the use of various implant systems helping patients chew and smile with confidence.
Clinic Address & Location
Dr. Maulik Vora Dental Clinic
405, 4th floor, Shivalik-5, Mahalaxmi Char Rasta, Paldi, Ahmedabad
Experience
Currently He practices in Dr. Maulik Vora Dental Clinic.
My News Feed
With the gleam of Diyas
And the Echo of the Chants
May Happiness and Contentment Fill Your life
Wishing you a very happy and prosperous Diwali!!
Implant in esthetic region..
Need dentist at "Dr Maulik Vora dental clinic and implant center"

MDS - ENDODONTIST

Minimum Clinical Experience required: 1 year after MDS

And also full time BDS (minimum 2-3 years of experience)

Timings: 10 am - 2 pm & 5 pm to 9 pm; Monday to Saturday.

For contact - 9924087185
Review & Ratings
INDUBEN RAJNIKANTBHAI SHAH
Memberships
- Indian Dental Association
Core Interest Areas
Dental Implant
Dental Surgery