Dr. Aenik Shah (Homeopath)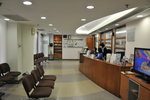 About Dr. Aenik Shah
Dr. Manan V. Thekadi BHMS PG(Hom.) London
Dr. Manan V. Thekadi practices at Thekadi Homeopathic Clinic in Paldi, Ahmedabad. He completed BHMS PG(Hom.),London.
Some of the services provided by the doctor are: Swine Flu, Influenza, Insomnia, Thyroid problems, Obesity, Dandruff and Acne etc.
Very prominent doctor in Homeopathic & Physician.
You can request an appointment with Dr. Manan V. Thekadi on Kivihealth.com.
Clinic Address & Location
Thekadi Homoeopathic Clinic
G14 Sahajanand Plaza, Nr Janta Icecream Bhatta Paldi, Paldi, Ahmedabad