Dr. Pankti Patel (Dentist)
BDS, MDS
13 Years Experience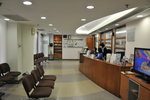 About Dr. Pankti Patel
Cosmetic Dentist, Laser Dentist
Dr. Pankti is a chief dentist of TCC. A vivacious and friendly dentist of TCC strongly believes that every client walking out of the clinic should go with a smile on their face.
She received Bachelor of Dental Surgery degree from Rajiv Gandhi University of Health Sciences, Bengaluru. She has been awarded with Diploma in Laser Dentistry from IALD-RWTH Aachen University, Germany. She has also done her fellowship in clinical research from ICDRO Bilcare Research Academy.
She is a young dynamic dentist with special interest in general and laser dentistry. She combines her scientific background with an artistic eye to bring the highest quality of personalized care to each of her client. Dr. Pankti is a caring, gentle and understanding professional. She continuously keeps abreast of the latest advances and developments in the field of dentistry.
Clinic Address & Location
132ft Ring Road,, Pushpak66, Near Someshwar Jain Temple, Satellite, Ahmedabad
Educational Qualifications
College of Dental Sciences and Research
College of Dental Sciences and Research
Experience
Chief Dentist at teeth Care center, Ahmedabad
Publications
Root Canal Treatment reoccurrence rate in India: A retrospective study
New England Journal, Vol 1.2
Review & Ratings
I like the treatment. Good.
Specialization
Cosmetic/Aesthetic Dentist
Memberships
World Dental Federation (Switzerland)
Indian Dental Association
Indian Academy of Laser Dentistry
Red Cross Society
Dental Practitioner's Society- Ahmedabad
Core Interest Areas
Cosmetic dentistry
laser Dentistry
Root canal treatment