Dr. Rucheet Purba (Dentist)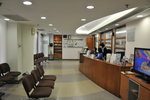 Clinic Address & Location
68, 10th Main Rd, Hal, Stage 2, Hoysala Nagar, Indiranagar, Bengaluru, Karnataka 560038, Indiranagar Bangalore, Bangalore
Review & Ratings
"Smile Works" Dentist is the best, if you're looking for quality. Dr Rucheet Purba is professional and explains everything clearly, and does a great job. If you have any fear about pain don't worry they are wonderful at making sure you have minimal to none. I got my root canal and fillings done without any pain.
Bill not been recd. To my email. Kindly send it to manju2006bangalore@gmail.com
Good , very friendly and comfortable . Was happy
Doctor very professional.Explained the procedure patiently. Highly recommended. Very neat and clean clinic.