Dr. Binu Mathews (Dental Surgeon)
Bachelor of Dental Surgery (BDS)
10 Years Experience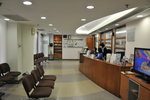 About Dr. Binu Mathews
.• Competent Dental professional with proven, clinical & technical abilities, offering over 23+ yrs of expertise & proven competency in clinical dentistry with reputed dental centres, clinics & colleges both in India and Abroad.

• Possessing excellent clinical and diagnostic skills, expertise in identifying issues, conducting analysis, synthesizing conclusions into recommendations & implementing change most suited to the patients.

• In-depth knowledge of issues related to areas of professional care, conservative dental treatment including all types of fillings as well as endodontic treatment, root canal therapy, cosmetic veneers, replacement of missing teeth with crowns and bridges, the treatment of general gum diseases, meticulous restoration of complex and discolored & damaged teeth.

• Abreast & well informed about changes, research & advances in the field in terms of medicines, dental equipment, conditions & diseases.

• Highly personable, competent & team spirited dental physician with excellent communication and interpersonal skills with the innate ability to strike a rapport with people.

• Multilingual, proficiency in English, Hindi & Arabic to suit the needs of the population.
Clinic Address & Location
GRACE FAMILY DENTAL CLINIC
, Bangalore City, Bangalore
Educational Qualifications
Bachelor of Dental Surgery (BDS)
All India Institute of Medical Sciences
Experience
Consultant at Virtus Specialized Dental Center,Kuwait
September 2011 - September 2017
Memberships
Indian Endodontic Society