Dr. Lalit Duggal (General Physician)
MBBS, MD - General Medicine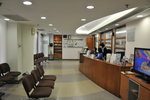 About Dr. Lalit Duggal
Dr Lalit Duggal is a Senior Consultant Physician based in New Delhi, who has practising for over 25 years. He specialises in Rheumatology and has a special interest in HIV & AIDS. Currently, Dr. Duggal is Senior Consultant & Head, Department of Rheumatology & Clinical Immunology at Sir Ganga Ram Hospital, Rajinder Nagar.
Dr. Lalit Duggal completed his MBBS from the Armed Forces Medical College, Pune, in 1980 followed by an MD from King George Medical College, Lucknow in the year 1985. He was also conferred the title Fellow of the Royal College of Physicians and Surgeons, Glasgow, UK in the year 2003.
Dr. Lalit Duggal has been active in research throughout his career and has published a large number of papers in peer-reviewed journals. He is a regular speaker at medical conferences, has chaired innumerable sessions and participated in countless panel discussions.
Clinic Address & Location
Lalit Duggal`s and Dental Peace Clinic
C-2/252, Janakpuri, Delhi
Educational Qualifications
Core Interest Areas
Arthritis Management
Articular Pain Treatment
Leg length inequality