Dr. Aparna Jaswal (Cardiologist)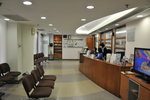 About Dr. Aparna Jaswal
Dr. Aparna Jaswal is an acknowledged expert in Cardiology at Fortis Escorts Heart Institute, New Delhi.She has been working at FEHI as a Principal Consultant since 1998.Dr. Jaswal has to her credit Certified Cardiac Device Specialist from the HRS, USA. Dr. Jaswal has many research projects and has been actively participating in National and International Research Trials. She has been invited as a faculty to various national and international symposia and workshops. She also has to her credit for having been the first electrophysiologist to start an EP program in Mauritius in November 2010.Dr. Jaswal has advanced as a Fellow of the Heart Rhythm Society, USA in March 2011.
Clinic Address & Location
Cardiology and ENT Clinic
A2/95, Janakrpuri, New Delhi, Delhi 110058, Janakpuri A 2, Delhi
Fortis Escorts Heart Institute & Research Centre
Fortis Escorts Heart Institute & Research Centre, Opp Holy Family Hospital, Okh, New Delhi, Delhi 110025, Sukhdev Vihar, Delhi
Review & Ratings
I have visited to doctor with my uncle and consult with the doctor regarding ICDs device implementation. it was very quick surgery to implant the device. Dr. Aparna's gesture was very generous and kind to use, she has helped us through all the processes. Thank you very much.
She is very concerned and giving best of support and knowledge. I m sure recommended everyone
I would like to describe Dr. Aparna Jaswal as a very energetic, friendly, gracious, knowledgeable and attentive individual who is fully involved with her patients. Not to sound discourteous or unappreciative of other doctors treating me, but as a referral patient, I definitely believe it's the treating doctors attitude & mental prowess that aids in fast recuperation or even the recovery of the patient. Her overall confidence is unshakable and that definitely rubs off on the people she comes in contact with. I wish the very best to her and her equally dedicated team.