Dr. Ashwin Poddar (Dentist)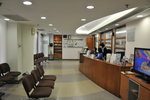 Clinic Address & Location
Bahl Dental Clinic And Implant Center, 23A, Block 7, Tilak Nagar, Delhi
Experience
Ex Junior Resident Acharya Shree Bhikshu Govt. Hospital Motinagar Delhi
Review & Ratings
Vandana Nangia (Card No. 682588)
Dr.Ashwin podar is an excellant doctor.He is master of his work. He is very courteous ,have lots of patience . and wants perfection in his work.
Professionally very good treatment Given
Great ...Doctor Ashwani is very polite and explain everything in detail related to your problem. He is a " DENTAL ARTIST" doing treatment with heart and soul with ultimate perfection. His staff is also very supportive and professional.
My experience was excellent in respect of treatment and over all as well at clinic. Heartily thankful to doctor and team.