Dr. Mayur Parmar (Dentist)
BDS, MDS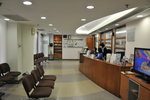 About Dr. Mayur Parmar
Dr Mayur Parmar is very Young energetic and skilled doctor. Treating patients like friends and making them comfortable is his quality.
Clinic Address & Location
Salin Complex, Rd Number 5, Sector 22, Gandhinagar
Educational Qualifications
Karnavati School of Dentistry
K.M. Shah Dental College Hospital
Experience
2013 - Present Owner Doctor at Dental Square
2014 - 2015 Dentist at Goenka Hospital
2010 - 2014 Dentist at Karnawati School of Dentistry
Review & Ratings
Dr. Mayur has been a very polite Doctor who advises the right for your problem. I went through mandibular frenum surgery and it was so swift. My family members too been visiting him. We recommend him, rate him as one of the best dentists around. Thanks.
Memberships
Indian Dental Association
Indian Society of Periodontology
Indian Society of Oral Implantologists (ISOI)
Core Interest Areas
Impaction / Impacted Tooth Extraction
Invisible/Clear Braces
Smile Design