Dr. Neeru Singh (Dentist)
BDS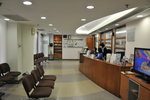 About Dr. Neeru Singh
Dr. Neeru Singh is a Dental Surgeon in Banganga, Indore and has an experience of 3 years in this field. Dr. Neeru Singh practices at Sai Dental Clinic in Banganga, Indore. She completed BDS from Devi Ahilya Vishwa Vidhyalaya, Indore, M.P. in 2015.
She is a member of Indian Dental Association. Some of the services provided by the doctor are: Conservative Dentistry, Acrylic Partial Denture, Artificial Teeth, Cosmetic/ Aesthetic Dentistry and Dental Fillings etc.
Clinic Address & Location
40,Vrindavan Colony, Banganga Main Road, Indore
Educational Qualifications
Devi Ahilya Vishwa Vidhyalaya-Indore M.P.
Experience
2015 - Present Owner at Sai Dental Clinic
Memberships
Indian Dental Association
Core Interest Areas
Impaction / Impacted Tooth Extraction
Dental Fillings
Cosmetic/ Aesthetic Dentistry