Dr. Vivek Chaturvedy (Dentist)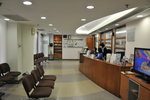 About Dr. Vivek Chaturvedy
Dr. Vivek Chaturvedy is a renowned dental surgeon, presently the proprietor of Chaturvedy's jaipur Dental Clinic & Stomatological Centre which is a state of the art euro-american styled dental practice in the commercial epicenter of Jaipur (Rajasthan, India). He specializes as a periodontist (gum surgeon) & super specializes as an oral implantologist.

Dr Vivek Chaturvedy has graduated from Bapuji Dental College & Hospital (Davangere, Karnataka) in 1996 & has completed his post-graduation in Periodontology in 2000 from College of Dental Sciences (Davangere, Karnataka). He later went on to do his super specialization in oral implantology from Gothenburg, Sweden.

His clinical skills are focused on diagnosis, treatment of diseases & conditions related to gums & surgical aspects of dental implantology. His colleagues often consult him for his expert opinion on various complicated cases. His humility, sense of humour, integrity & humanness has made him an extremely popular & well known figure both in India & abroad.
Clinic Address & Location
Chaturvedy's Jaipur Dental Clinic
G-17, Raghuraj Enclave, Krishna Marg, Near Ahinsa Circle, C Scheme, Jaipur