Dr. Praful Kamani (Gastroenterologist)
M.D, DNB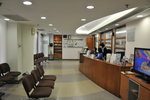 About Dr. Praful Kamani
Dr. Praful Kamani is Chief Consultant Gastroenterologist, Hepatologist and Therapeutic Endoscopist at NM Virani Wockhardt Hospital in Rajkot, Gujarat. He is a leading Endoscopist in the region and has performed more than 20,000 therapeutic as well as diagnostic endoscopic procedures, including upper GI and lower GI bleeding control, stone removal from bile duct and pancreatic duct, and palliative metal stenting of oesophagus and bile duct.

After obtaining his MBBS in 1996 from Sardar Patel University, Dr. Kamani did one year of compulsory rotating internships at various medical centres and colleges in Gujarat. Next, during his MD programme, he completed three years residency in Internal Medicine at Shree Krishna Hospital, Karamsad (1999 to 2002), under Prof. Dr. Jyoti Mannari. This was followed by three years of training in Gastroenterology at Jagjivan Ram (Western Railway Hospital), Mumbai (2003 to 2006) under Prof. Dr. Subhash Agal, after which Dr. Kamani cleared the DNB examination in Medical Gastroenterology.

Dr. Praful Kamani worked as a Senior Clinical Assistant at Jaslok Hospital & Research Centre in Mumbai for four months in 2006 under Dr. HG Desai, and then spent a month as Observer in Paediatric Gastroenterology and the Manometry laboratory at Sanjay Gandhi Post Graduate Institute (SGPGI), Lucknow, under Dr. Ujjal Poddar and Dr. Uday Goshal. This was followed by a nine-month stint as Research and Senior Clinical Assistant at Bombay Hospital and Research Centre, Mumbai, under Dr. Deepak Amarapurkar.
Clinic Address & Location
Kalawad Road, near KKV Hall, Raiya Road, Rajkot
Educational Qualifications
Pramukh Swami Medi. College Karamsad
Experience
Wockhardt Hospital Rajkot
Core Interest Areas
Endoscopy