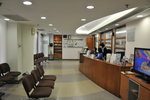 About Dr. Ravi Patel
Dr. Ravi Patel is a well renowned and leading dentist in Surat. He holds a bachelor's degree (BDS) in Dentistry.

Currently he practices at Yash Dental Clinic. He has Performed all kinds of general dentistry including Dental Check-ups and Cleaning, Dental Crowns and Dental Implants, etc. He is also an active member of Indian Dental Association.

Clinic Address & Location
M-322/323, Kanchanjanga Complex, Athwa, Surat
Experience
Currently he practices at Yash Dental Clinic
Memberships
- Indian Dental Association
Core Interest Areas
Root Canal Treatment
Dental Surgery