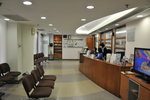 About Dr.
Periodontology and Oral Implantology
Dr Jaydeep Mali is an expert in procedures such as various Periodontal Flap Surgeries, Regenerative Periodontal Surgeries-Bone Grafting, Muco-Gingival Surgeries, Resective Osseous Surgeries, and Dental Implant Placement.

His core competency and focus continues to remain on Implant Dentistry that includes procedures such as Extractions and Socket Preservation using Bone Graft, Maxillary Sinus Augmentation, Surgical Placement of single and multiple implants. He regularly works with patients that are medically challenged with chronic diseases such as Diabetes and Heart Disease.
Clinic Address & Location