Dr. Mayank Kumar Tiwari (Dentist)
BDS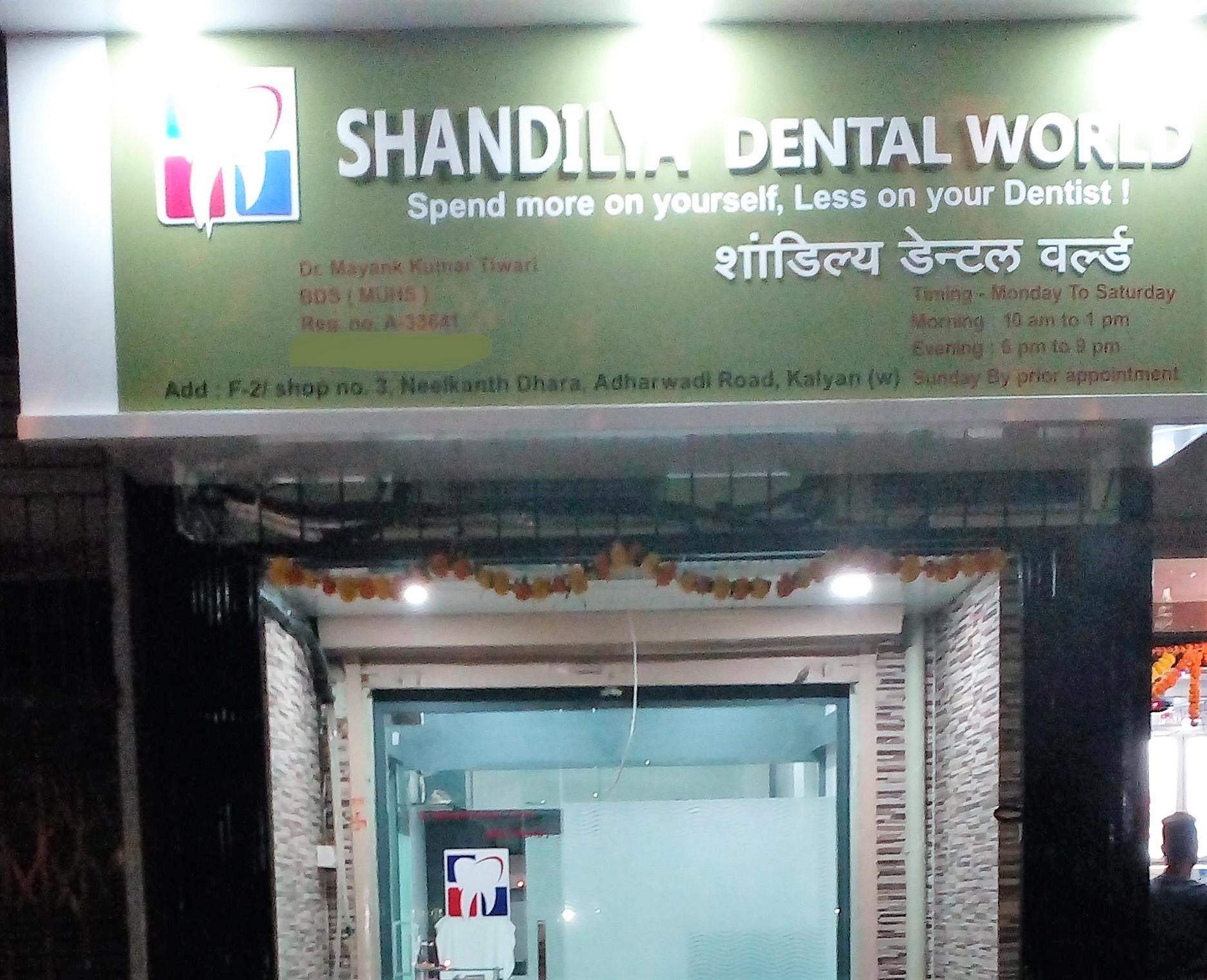 About Dr. Mayank Kumar Tiwari
"Spend more on yourself,less on your dentist."
Dr. Mayank Kumar Tiwari is a Dental Surgeon,Implantologist and Cosmetic/Aesthetic Dentist in Kalyan West, Thane and has an experience of 1 year in these fields. Dr. Mayank Kumar Tiwari practices at Shandilya Dental World in Kalyan West, Thane. He completed BDS from V.S.P.M Dental College And Research Center Nagpur in 2015.
He is a member of Indian Dental Association. Some of the services provided by the doctor are: Bone Grafting for Dental Implants,Zirconia Crowns and Scaling / Polishing etc.
Clinic Address & Location
F-2, Shop No.3, Neelkanth Dhara, Adharwadi Road, Kalyan (West), Kalyan, Thane
Educational Qualifications
V.S.P.M Dental College And Research Center Nagpur
Experience
2017 - 2017 Dentist at Swasth India Medical Center
My News Feed
Healthy smile healthy children.
In association with Ida and Colgate we are celebrating oral health month from 18nov-18Dec 2018.
Get free dental check up to keep your Smile Healthy.
Contact on 8828589847
/aimalpage/videos/2016062162057131/
/enjoy.science/videos/749776142036932/
Smile, it's World Oral Health Day..!

" W.O.H.D offers the dental and oral health community a platform to take action and help reduce the overall disease burden. "

#WorldOralHealthDay #WorldOralHealthDay2018 #WOHD #Dentists #DentistsAroundTheWorld #DentistsNearby #OralHealth #DentalHealth
Wishing Happy World Oral Health Day 2018 to every one from the team of our clinic.
On this day we are provide free dental check up and consultation for better oral health of the society please utilise the opportunity...
Stay blessed stay healthy
keep smiling
Why We Remind You?

Remind. Remind again. Remind them hard. Photos details how adherence to prescriptions written by doctor is so bad and why we 'FORGET' about it #digitalhealth #health #cbinsights #Rx #kivihealth.
Review & Ratings
I have been taking treatment for Root canal for my tooth at Sandilya Dental World Dental clinic, Kalyan Today I had appointment with Doctor for measurement of my artificial tooth and it was done in good manner. Thanks to Dr. Mayank Kumar Tiwari Regards, NEELESH TAIKAR
I have undergone Root Canal surgery at Sandhilya Dental World Dental clinic, Kalyan and I am happy with the treatment. it was done with accuracy and precision and using advance technology. Thanks to Dr. Mayank Kumar Tiwari Regards, NEELESH TAIKAR
Specialization
Dental Surgeon
Dentist

Implantologist
Cosmetic/Aesthetic Dentist
Memberships
Indian Dental Association
Core Interest Areas
Bone Grafting for Dental Implants
Scaling / Polishing
Zirconia Crowns