Dr. Vishal Gupta (Diabetologist)
M.D medicine
16 Years Experience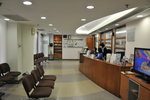 About Dr. Vishal Gupta
Dr. Vishal Gupta (Lifeline Hospital) in Vadodara has made a rather exceptional name in the city. According to many, the doctor classifies as one of the 'go-to' general physicians in the area. The stronghold this doctor has in the medical field has not only drawn in patients from in and around the vicinity but from across the city as well.
The doctor's determination stems from sheer passion to offer patients healthier living options. Knowing that with the ever increasing and changing lifestyle, there is a need for general physicians in the city and windows to better one's health. This physician possesses an impressive amount of knowledge and constantly keeps updated with advancements made in the field.
Over the years Dr. Vishal Gupta has offered countless patients excellent treatment for various health issues. Being a Cardiologist, this doctor handles a number of studies under this segment. Some of the departments that come under the physicians peripheral are neurology, dermatology, gastroenterology, diabetology, homeopathy, endocrinology, etc.
Clinic Address & Location
Educational Qualifications
Experience
Consultant Dhiraj hospital
November 2005 - April 2006
Core Interest Areas
Immunisation/Vaccination