Dr. Ajwani's Family And Cosmetic Dental Center
Koregaon Park, Pune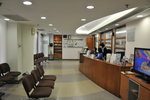 About Dr. Ajwani's Family And Cosmetic Dental Center
Dr. Ajwani's™ Dental Center was set up in the year 2008, by Dr. Himanshu Ajwani, in the heart of Pune City at Koregaon Park.
Ever since its inception Dr. Ajwani's™ Dental Center, has been always considered amongst the best dental clinics in the country. Initially we started of as a single chair – general dental practice, but soon as per the requests from our patients, we expanded to a multiple chair practice and multiple state of the art dental centers. Today we are a team of over 15 that includes full time dentists, visiting dental specialists, dental advisory board (comprising of senior world renowned dentists), dental assistants, receptionists. Our current team of Dentists has worked together for a few years now, as a result the quality and efficiency of work has greatly improved with each member of the team having their area of specialty. We attend continuing dental education programs frequently to continuously update ourselves and bring the latest treatments to our patients.
Our new Dental Center at Koregaon park, Pune has also been a center for training dentists from all over India, in dental Implantology and other advanced dental procedures.
Clinic Address & Location
Dr. Ajwani's Family And Cosmetic Dental Center
A 5 Sukhwani Park Society, N Main Rd, Liberty Phase 2, Ragvilas Society, Koregaon Park, Pune