Dr. Arun's Dental Care
Nasirpur, Delhi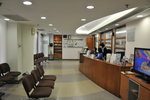 About Dr. Arun's Dental Care
Dr. Arun's Dental Care is a professional dental care center situated in Dwarka, New Delhi that offers proficient dental services with a personal touch.

Dr. Arun's Dental Care, we offer advanced procedures of orthodontics, root canal treatment, tooth replacement and essential services for keeping your teeth healthy and clean. We believe in giving patients personal attention under a friendly and hygienic environment.

Leading the professional and highly qualified team is Dr. Arun Kumar, a qualified Orthodontist. He has a long experience of more than 14 years in handling all types of dental problems and giving the best and affordable dental care.
Clinic Address & Location
Flat No.191,Capital Apartment, Pocket 6, Sector 1A Dwarka, Nasirpur, New Delhi, Delhi 110045, Nasirpur, Delhi