Dental Plus Clinic and Implant Centre
Satadhar Cross Road, Ahmedabad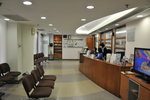 About Dental Plus Clinic and Implant Centre
Clinic Address & Location
Dental Plus Clinic and Implant Centre
30, first floor, Satya Surya Complex, in front of Sola Bridge BRTS, Satadhar Cross Road, Ahmedabad
Review & Ratings
Khushboo Shivambhai Patel
It was very comforting as i was scared for the dental treatment but the doctor and the nurse made sure i was comfortable and was confident that it wont hurt and the rest of the treatment was conducted very smoothly.
Rakeshbhai Dayalbhai Korvani
My experience at Dental Plus clinic is beyond expectation. My Appointment start on-time. Doctor and assistance staff is too supportive. Guidelines given by doctor is accurate. I recommend Dental Plus clinic based on my personal experience.