Geetanjali's dental surgery
Civil Lines, Jaipur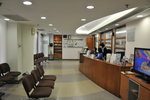 About Geetanjali's dental surgery
Clinic Address & Location
Geetanjali's dental surgery
D79 shanti nagar NBC road /khatipura road civil lines Hasanpura 302006, Civil Lines, Jaipur
Review & Ratings
Excellent...!! Visited for my 10 year old daughter's treatment.., as always Dr Geetanjali and Team had made her comfortable first, and then extraction was done without any pain.
Got the teeth made for my grand mother. Dr Geetanjali really makes her patients to feel at home and comfortable. Excellent fit, quality material and comparatively very reasonably priced as compared to the market.
Dr. Is very nice , rather one of the best Dr's I hv came accross, other staff is also well mannered and professionally trained.