Health Focus Physiotherapy
Kudasan, Gandhianagar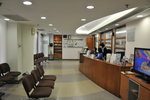 About Health Focus Physiotherapy
Clinic Address & Location
Health Focus Physiotherapy
A/207, Radhe Arcade, Opp. City Pulse, Gandhinagar, Gujarat., Kudasan, Gandhianagar
Review & Ratings
Last two years l was suffering back pain problem,my friend suggested to health focus.i meet the doctor and start to treatment.my 9 stations complete and my back pain is 99% solved.its best therapist.thank you so much to doctor and your staff
It's great experience to take service from Health focous. Even though in Lock down period, it is providing services to all patient without fail ,in my case i give five star to this point.It has all latest technology equipment which help to patient recover fast.
A very professional place with dedicated staff. The ower is very good at giving treatment. Also he and she is very humorous person and keeps the entire treatment session very friendly. Besides every thing he and she is a dedicated professional with exceptional skills.
It's a good experience to take physiotherapy from Health focous. It has all latest technology instruments so it's offer best in class service.