I smile Dental implant center
Naranpura, Ahmedabad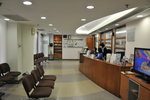 About I smile Dental implant center
Clinic Address & Location
I smile Dental implant center
329-binali complex, near torrent power zonal office, oppo suryakutir residency, nananpura, ahmedabad., Naranpura, Ahmedabad
Review & Ratings
Coming from Australia, i was little hassitant to attend dentist this time due to hard past experience. But coming to I SMILE Dental Center , it was one of the best ever experience to me. Get SINGlE SITTING PAINLESS ROOT CANAL by Dr Brijesh, and team and multiple covers on teeth. and it was incredible experience ever. He has the skill to communicate with patient, and it relieve patients fear so well. Strongly Recommanded.
good services at a little higher than affordable fees and we have good experience overall ultimately
thanks a lot for giving me good advice for dental treatment and provide all motivetional things related to dental.. A big thanks to Dr Brijesh and all staff Cz giving me painless treatment... Nice to meet you all guys...
Very professional well knowledgeable, friendly staff advance equipment all together great service. strongly recommended