Jardosh Dental Clinic
Paldi, Ahmedabad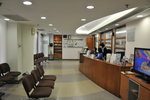 About Jardosh Dental Clinic
Building Better Smiles
Our main concern is to fulfill our patients' expectations for high standard treatments with functional and aesthetic criteria. Thanks to our professional experience and know how, we provide you with best services.
Our modern premises are fitted with state of the art equipment.
You will receive an appropriate and innovative treatment with full respect of hygienic and asepsis norms.
Clinic Address & Location
410, Onyx- Besides Navchetan School,, Paldi, Ahmedabad