Jardosh Dental Clinic
Paldi, Ahmedabad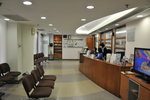 About Jardosh Dental Clinic
Building Better Smiles
Our main concern is to fulfill our patients' expectations for high standard treatments with functional and aesthetic criteria. Thanks to our professional experience and know how, we provide you with best services.
Our modern premises are fitted with state of the art equipment.
You will receive an appropriate and innovative treatment with full respect of hygienic and asepsis norms.
Clinic Address & Location
410, Onyx- Besides Navchetan School,, Paldi, Ahmedabad
Review & Ratings
When I first lost my teeth in an accident, I was very worried about what I will do about the situation. I talked to several doctors before I met Dr. Tapan, and was not satisfied at all with their services. But after meeting Dr. Tapan, he assured me that everything will be fine and the process will be painless. His words were 100% true and I am truly satisfied with his services. Overall, this was a wonderful experience and I will definitely recommend Dr. Tapan to other patients!
I visited for Crowns and Bridges Fixing, Tooth Extraction, Toothache, Tooth Abscess After getting teeth cleaning done,i dont feel any bad breath, after new teeth feeling like my teeth has got new life. nice advise for treatment. nature of doctor good
one of the best expri. giving proper advice . freindly nature and ready to serve the patient at anytime. which is most helpful for the patient
The treatment I received in this hospital has got very good treatment. And Sir is the way to explain. It explains me very simply. And the cleanliness in this hospital is also very good. I like this jardosh dental