Sai Dental Implant Centre
Bharuch H.O, Bharuch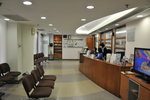 About Sai Dental Implant Centre
Our Clinic is on panel ONGC & Birla Copper.

'Dental Health' and access to 'Dental Care' is an integral part of general health and well being. Good oral health and freedom from oral pain and infection substantially contribute to quality of life and self esteem.

Sai Dental Implant Center is a well equipped dental center with various dental treatments available under one roof. We are committed towards providing quality dental service in a friendly and caring environment. We specialize in all the basic and latest dental procedures including dental dental implants, teeth whitening, porcelain veeners, smile corrections, fix teeth, painless RCT, wisdom tooth removal, dental X-RAYS etc.

Dr Amit Sethi's team has two dental surgeons, three dental assistants, all committed towards providing our values patients quality dental health care. We have visiting facility of Oral & Maxillofacial surgeons, periodontist and orthodontist for patients requiring advanced dental treatment.

You can book an instant appointment with doctors of Sai Dental Implant Centre on Kivihealth.com.
Clinic Address & Location
Sai Dental Implant Centre
115/116, First Floor, Ashirwad Complex, Panch Batti, Bharuch H.O, Bharuch