Shahibaug-Agarwal's Multi Specialty Dental Clinic
Shahibaug, Ahmedabad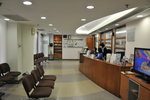 About Shahibaug-Agarwal's Multi Specialty Dental Clinic
Clinic Address & Location
Shahibaug-Agarwal's Multi Specialty Dental Clinic
B- 9/10, 1st Floor, Manibhadra Enclave, Opposite Rajasthan Hospitals, Shahibaug, Ahmedabad
My News Feed
https://web.facebook.com/photo.php?fbid=10208611632513420&set=pcb.10208611678514570&type=3
Review & Ratings
Dr. Was on dot time ; the way she explained the treatment it was very nice. She also wore a friendly and smiling attitude.
I had cum for Rc treatment of my last molar tooth but i realize she has started 2nd molar rct .....please clarify from her and tell her to ring up and inform me regarding this. Perhaps she has done intentional rct for plan of bridging and all...i don't know but i had cum for conservative treatment of my last molar. Please clarify
She is very very very good Dr.
His direct approach to complex cases makes the surgery a lot less painful and bulletproof! The best in the business I would say.