Shraddha Physiotherapy Clinic and Research Rehabilitation Center
Maninagar, Ahmedabad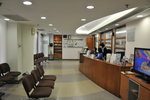 About Shraddha Physiotherapy Clinic and Research Rehabilitation Center
Shraddha Physiotherapy Clinic and Research Rehabilitation Center is known for housing experienced Physiotherapists. Dr. Jayvardhan Mishra, a well-reputed Physiotherapist, practices in Ahmedabad. Visit this medical health center for Physiotherapists recommended by 70 patients. And this is not physiotherapy center this is also a research rehab center where all types of joint problems resolve in minutes with amazing visible results seen in weeks hare pediatric and neurological physical problems resolves in months.

You can get phone numbers and call doctors of Shraddha Physiotherapy Clinic and Research Rehabilitation Center on Kivihealth.com.
Clinic Address & Location
Shraddha Physiotherapy Clinic and Research Rehabilitation Center
Nr. Sales India, B/h, Gandhi Complex, Maninagar Char Rasta, Maninagar, Ahmedabad
My News Feed
Early rise in the morning. Do regular exercise for minimum 30 mints. Never use silver shild food product. Use sun light for vit d. Avoid prolong sitting or standing. And take more alkaline food. Will help you live fit n healthy.
Review & Ratings
very good treatment... improvement since admission..my father is paralytic patient...he started walking in few weeks...good staff and positive environment...
Nitesh my son is suffering from ADHD is of 11 years intially when I came to shraddha physiotherapy centre he use to only say one word repeatedly . Now he has started saying complete words and forming sentences also his understanding has increased. His weight has reduced a lot. he has started following all the instructions better than before his behaviour has improved. His overall health has improved due to Dr Mishra's excellent food supplements. Thanks to untiring efforts of Dr J.B Mishra.
hello friends myself Darshna Shah 60 yrs Retd.nursing staff .sufring from chronic neck and shoulder pain since 3 yrs.i have consulted 4 orthopaedic doctors.but no any relief...after talking steroid injection & ozone inj. mild relief in my pain.one day m searching for a good Dr in Google than I saw the video of Dr j.b mishra.he is in maninagar .I came with my new hope and just after treatment session my pain reduced 80 % and just in 3 days i m living my Life pain free.. without taking any medicine. Thanks Dr mishra and whole shraddha team for his marvellous job may God bless him for his better success.
hi myself came here through google for my shoulder problems and it's totally cures in 3 days ..thanx Dr Mishra