Vinayak Dental Clinic(Dr.Ashish Bhimani)
Uttamnagar, Ahmedabad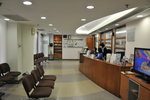 About Vinayak Dental Clinic(Dr.Ashish Bhimani)
Vinayak Dental Clinic is well known Dental Clinic in Uttamnagar- Ahmedabad . Dr. Ashish Bhimani is the Consultant Dentist at Vinayak Dental Clinic.
Clinic Address & Location
Vinayak Dental Clinic(Dr.Ashish Bhimani)
Ratanpark Road,Nr. Saraswati School,Nikol Road, Uttamnagar, Ahmedabad
Review & Ratings
I am very happy from vinayak dental clinic services. Sir Thank you very much for remove my wisdom teeth and teeth cap applied. I advise that any who has a teeth problem will go to the doctor Ashish Bhimani.