Sreevaaru Dental Clinic
Hebbal Kempapura, Bangalore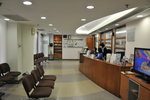 About Sreevaaru Dental Clinic
Clinic Address & Location
#24, 1st floor, Mariyannapalya, opp-BBMP, Dasarahalli, Hebbal - 560024, Hebbal Kempapura, Bangalore
Review & Ratings
He is a fantastic doctor & seems to have very vast knowledge and experience. First treatment of root canal before 2 years, then last year cleaning-filling-caping. Today removal of wisdom tooth he did just within 1 minutes. No pain. No bleeding. Of course he suggested for root canal. He did not insist. I started believing him from my first treatment & now continued. He also explains in the very simple way so that you can understand. He also guides very well. I wish him a very bright future & wish him to achieve all his desired goals.
The doctor is very friendly and Best supporter I love to vistlit again But I feel little expensive
Dr Vishwa is great. He explain clearly to the patient about the condition and provides suggestion for maintenance further. My daughter is so comfortable with this clinic. Dr' s wife treats well too. She is my daughter's favourite dentist. Great Dr. Keep up your good service.