Dr. DR Shabeer Ahmed (Gastroenterologist)
MBBS, M.S, FRCS
22 Years Experience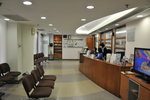 About Dr. DR Shabeer Ahmed
Dr. Shabeer Ahmed is one of the leading surgeons in Bangalore. He currently consults as a Minimal Access Surgeon in Fortis Hospital, Bannerghatta Road, Bangalore. He completed his MS, FRCS (UK) MMAS (Masters in Minimal Access Surgery, Scotland)
Dr. Shabeer Ahmed got his Doctor of Medicine degree with honors from the Madras University in the year 1986. He, later on, obtained an M.S degree from Mysore University in 1989. He was then trained as a surgeon in the Republic of Ireland during the year 1989 -1996.
He completed his FRCS from England in 1995. Dr. Shabeer Ahmed was always passionate about Minimal Access Surgery which led him to join Professor Alfred Cuscheri in Nine well Hospital, Scotland. He did his Masters Degree in Minimal Access Surgery from Dundee University, Scotland.
He also spent time conducting research on topics related to laparoscopy and later on worked as a consultant colorectal surgeon in the Republic of Ireland from 1998- 2001. He was then later appointed as a consultant colorectal surgeon in Queen Margaret Hospital Dunfermline, Scotland.
Dr. Shabeer Ahmed, later on, established a Laparoscopic Center at Queen Elizabeth Hospital, Birmingham, where he performed about 240 cases of colorectal cancers laparoscopically. This work was considered outstanding and was recognized well. He was then appointed as a preceptor by the association of laparoscopic surgery (ALS), which enabled him to visit various parts of UK to train surgeons.
His interests include colon cancer screening and prevention, inflammatory bowel disease (IBD), teaching medicine, and clinical medical ethics. He was also a supervisor for several research projects and clinical trials in Dundee. He has published peer-reviewed publications, review articles, and abstracts to the medical literature.
Clinic Address & Location
Q - Medical Center Speciality Hospital
Q Medical Center(Speciality Hospital # 43, Dickenson Road, Next to Hasanath College, Bengaluru, Karnataka 560042, Dickenson Road, Bangalore
Educational Qualifications
Royal College Of Surgeon Of Edinburgh
Jagadguru Jayadeva Murugarajendra Medical College (JJMMC)
Experience
Minimal Access Surgeon at Fortis Hospital, Bannergatta Road
January 2006 - January 2015
Consultant Colorectal Surgeon at Republic of Ireland
January 1998 - January 2001
Specialization
Gastroenterologist
General Surgeon
Memberships
Membership of the Royal College of Surgeons (MRCS)

Core Interest Areas
Laparoscopic Surgery
General Surgery
Bariatric (Gastric Bypass) Surgery